Comparison Chart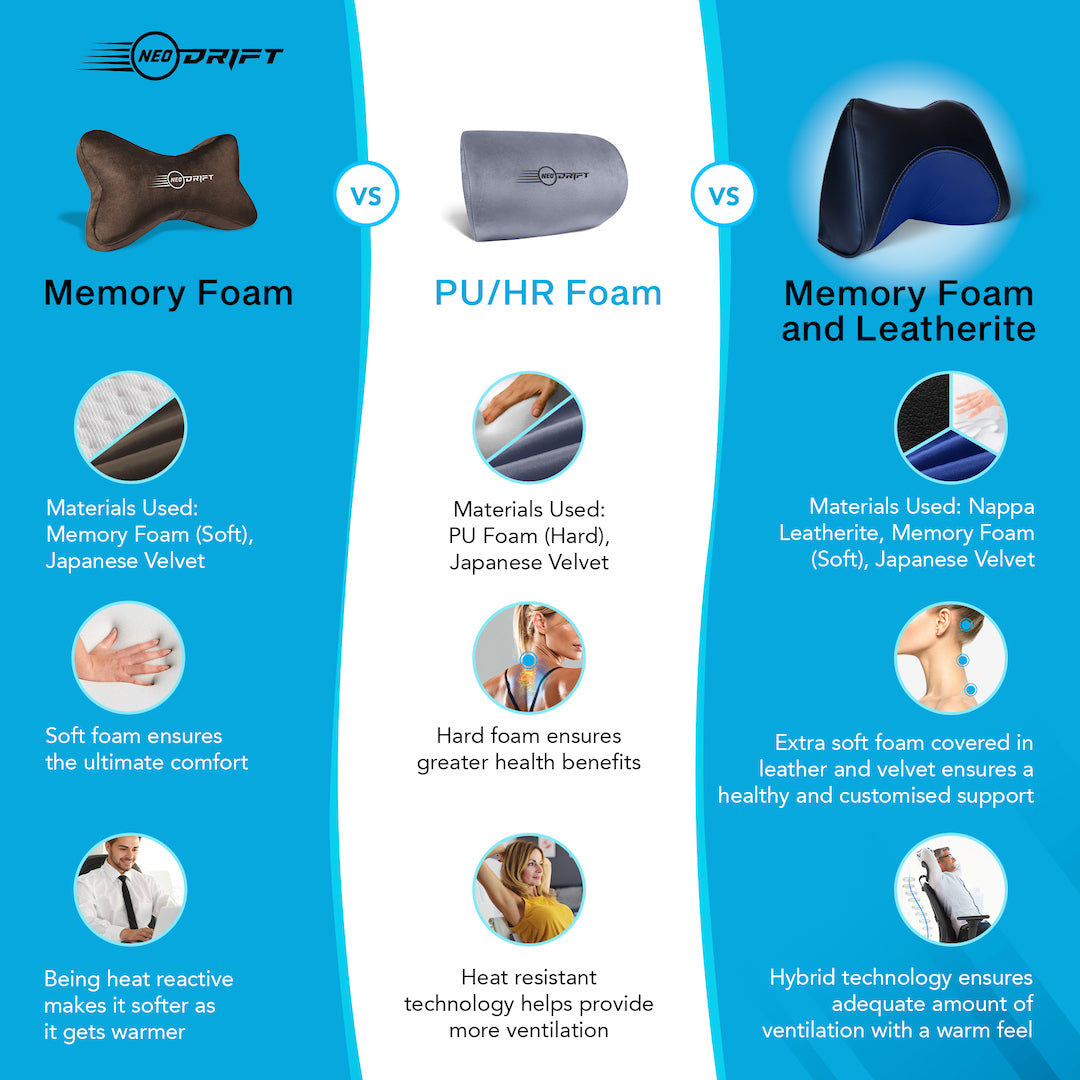 Fitting Instructions
Description
Neodrift NeckFlow - Memory Foam Orthopedic Neck Support Car Headrest Velvet Cushion Pillow for Neck, Head, Shoulder Pain-Relief for Car Seat, Gaming Chair, Office Chair
NeckFlow from Neodrift is a memory foam neck support car headrest made from premium velvet material that provides great comfort and support to your neck and shoulders even during prolonged hours of usage. Made from 100% Premium high-density memory foam, this neck cushion promises a great fit while providing relief from neck pains and discomfort.
Features

Made from 100% Memory Foam
Neckbone helps you achieve neck support that lasts for unmatched hours of prolonged use thanks to the memory foam inside it. The memory foam can adjust its shape precisely as per the neck, head, and shoulders promising optimised support. Frequent adjustments of the cushion for support and circulation is not necessary as it retains their form over time. The material is very comfortable and breathable, making it ideal for those with neck injuries or pains.

Adjustable Elastic Strap 
Slipping and sliding is made a thing of the past as the adjustable strap in the cushion secures it for long trips be it on pothole-ridden roads or even for off-roading trips. This cushion doesn't struggle to stay in place be it a short commute or a long road trip. It's a truly snug fit.

Universal Fit
This neck pillow offers a universal fit as it's built to attach to any headrest irrespective of the size, thanks to its adjustable strap. It can be strapped onto any headrest of your car, be it the first, second, or third row. It can be used even in taxis and ride-shares to keep neck pain at bay.

Ergonomic H-shape Design
The cushion offers all-around support to your neck, shoulders, and head with its ergonomic design that fills up the gap naturally. It helps in boosting circulation in and around the neck thanks to its carefully designed shape.
Chiropractor Recommended Instant Neck Relief
This cushion helps you keep the discomfort away. Terrain shocks such as potholes, rough roads, and other driving conditions that jostle the neck are prevented as the robust memory foam inside the cushion absorbs everything in its stride. The pillow has been extensively tested by doctors and chiropractors. It has been proven helpful in curing any discomfort around the neck.
Payment & Security
Your payment information is processed securely. We do not store credit card details nor have access to your credit card information.